Club Profile
About AMCI
Mission/Vision
Officers
Milestones
News Bulletin
Climbs & Activities
Mountains & Places
Photo Gallery
Members' Corner
Feedback & Queries




The Ayala Mountaineers Club, Incorporated (AMCI) is an association of executives and employees in both private and government corporations/agencies, with a sprinkling of men and women in the private practice of their professions, as well as entrepreneurs and students all based mostly in Makati City. These men and women, young and old alike have one thing in common -- an ardent passion for the outdoors.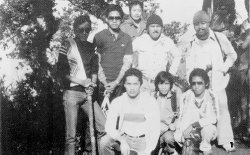 AMCI was founded in 1982 by Ed de Vera, Nelson Deles, Vladimir Dizon, Vic Navarro, Ruben Olayres of FGU, Noel Punzalan of the Ateneo College of Law, and Noel Garcia of the University of the Philippines in Dilliman, Quezon City.

It was formally established in 1983 and is listed in the Securities & Exchange Commission as a non-stock corporation.

Members of AMCI are referred to as Ayala Mountaineers. Being an Ayala Mountaineer entails three (3) basic commitments:


Commitment to safety. Mountainering is a physically and an emotionally demanding activity. An Ayala mountaineer prepares properly and sufficiently before going into any potential challenges the climb would offer.
Commitment to forest conservation.
Commitment to friendship. Camaraderie is strong among Ayala Mountaineers as well as with other mountaineers. Being of kindred spirits, because of the beauty, and challenges experienced in the outdoors, mountaineers are natural friends.

Ayala Mountaineers have been to many mountains and other destinations in the Philippines. Several others have traveled to Southeast Asia, Europe and the United States of America.

AMCI is a member of the Mountaineering Federation of the Philippines (MFPI).

Ayala Mountaineers also organize and participate in relief and rescue operations, medical and dental missions and other civic activities.