Club Profile
News Bulletin
Climbs & Activities
Archives
Mountains & Places
Photo Gallery
Members' Corner
Feedback & Queries

Mt. Ugu (February 13 to 15, 1998)

by Jay de Guzman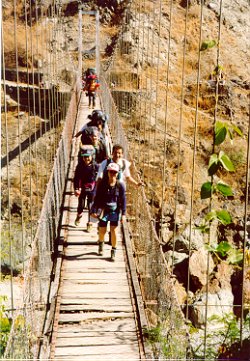 In celebration of AMCI's 15th Year Anniversary, Ayala Mountaineers climbed Mt. Ugu bringing with them books, school supplies, and sports/recreational items (i.e., chess set, basketball and volleyball) which they distributed and donated to the children and school of Bgy. Lusod in Itogon, Benguet.

Tey Walde led the expedition which assembled at Jollibee - Greenwich food store adjacent to the Victory Liner terminal in Baguio City.

Transportation from Baguio City to Itogon, Benguet and back for the main group was arranged by Jay de Guzman and Tey Walde.

The main group was composed of Xenon Walde and Edil Cancio of Batch '92, Jay de Guzman, Arnel Castillo, Chat Edrosolano, Bing Obordo, and Acela Badiola of Batch '93, MeAnn Villamor and Tey Walde of Batch '94, Ogs Cruz, Dennis Villacorta, Jojo Cruz, and Zaldy Malabanan of Batch '96, Jig-jig Macaspac, Bong Lacerna, Romy Doctolero, Dojo Tia, Ditas Capulong, Raffy Guillermo, Lester Feliciano, Omeng Sayo, Rocky Sy, Lynda Satumba, Noel Robes, Girlie Rivera, Vhang Tugade, Gerry Villaluz, John Teodoro, and Eric de Guiño of Batch '97. They started their trek on Friday, February 13, 1998.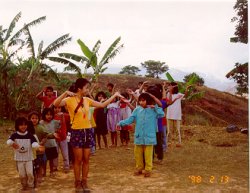 After trekking in the hot, open trail for about two and a half hours we reached a water source where we had our lunch. We then proceeded to Bgy. Lusod arriving at around 3:30 PM. While Ogs, Tey and other members prepared for the distribution and turn over of the books, school supplies and other items, Acela had the kids line up and led them in rendering action songs to the delight of everyone.

After the distribution and turn over ceremony, we set upped our camp at the school grounds.

The trek to the summit of Mt. Ugu the following day was better since the trail passes through a pine forest. But our packs were almost as heavy as it were the first day since we loaded up at least three (3) liters of water each. It was all worth it, we were rewarded with a spectacular view along the way and at the summit as well.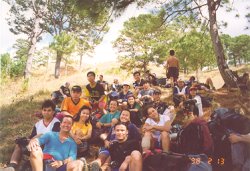 The second group started their trek on this day Saturday, February 14, 1998. They trekked the distance the main group covered in two days in just one day. Theirs was a fast, exhausting pace. The second group was composed of Ruben Mallari of Batch '86, Mar Alotaya of Batch '87, Cristie Arboleda of Batch '89, Elmer Camat and Eli Coyoca of Batch '92, Tatax Almoro and Annette Rana of Batch '93, Val Tanzuaco of Batch '95, and Giselle Aviquivil of Batch '97.

The two groups met at the summit of Mt. Ugu where the anniversary celebration was held after dinner. A short program was held emceed by Xenon and Girlie. Ruben, the AMCI Chairman, in his opening speech called on all Ayala Mountaineers present, especially Batch '97 for unity and cooperation within AMCI. He asked everyone to support the activities of the Club. The program was capped with the old and new members renewing their allegiance to AMCI by reciting the Oath of Membership. Afterwards, senior members shared exciting and scary stories about their adventures in the mountains. There was also a bit of singing and dancing later in the evening.

Everyone woke up early the following day to catch the beautiful sunrise. Cameras were at hand to capture moments of our stay at the summit of Mt. Ugu. Afterwards, everyone busied themselves with cooking breakfast and lunch, breaking up camp, etc. We were all back in Baguio City by 7:00 PM. Most of us took a shower at Casa Vallejo, while others proceeded to the market place to buy pasalubong. We even had time for dinner at O Mai Khan and a few drinks in a local bar. Then it was time to go home once more, back to the busy and hurried pace of city life. But amidst this chaos called humanity, we as Ayala Mountaineers are undaunted and unperturbed knowing that we have another home, a place where we can find solace and peace, in which we can rekindle the very essence of our beings. Knowing this well enough, we boldly face the challenges of life.

Until the next climb, we shall wait in anticipation of yet another summit, another kind of challenge and adventure in the great outdoors.