Club Profile
News Bulletin
Climbs & Activities
Archives
Mountains & Places
Photo Gallery
Members' Corner
Feedback & Queries

1997 BMC Training
by Jay de Guzman

Recruitment for AMCI's Basic Mountaineering Course (BMC) training for 1997 was started off with a photo exhibit held at the Glorietta in Makati City.

Applicants then attended the 1997 BMC Training Orientation held at Eastern Telecoms Plaza.

The Training Committee was headed by Atoy Jamila with Eboy Roselada, Ogs Cruz, and Jay de Guzman as the Academics, Physical Fitness and Climb Coordinators respectively. Gracia Garcia and Cristie Arboleda were in-charge of the secretariat and treasurer functions.

Wednesday and Sunday training sessions were held at the Valero Car Park in Makati City and DECS-ULTRA in Pasig City respectively.

Wall/Rock climbing sessions were held at Planet Rock in Makati City and Montalban, Rizal.

Basic First Aid/Life Support courses were conducted by the Philippine National Red Cross - Rizal Chapter at DECS-ULTRA.

The land navigation exercise, and practical exams were done during the Orienteering Weekend held at Mt. Mabanban in San Antonio, Zambales.

Rapelling sessions were conducted by the 505th Helicopter Wing of the PAF. These were held at DECS-ULTRA and Clark Air Field, Pampanga.

Qualifying 15km runs were held at Boy Scout of the Philippines grounds in Los Baños, Laguna and at DECS-ULTRA.

Eric de Guiño and Marisse Soliman were adjudged the Best Male and Female Trainees of Batch '97 respectively.


Training, Cleanup and Induction Climbs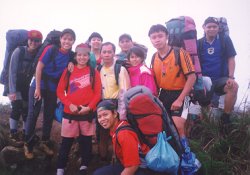 Training climbs were held at Mt. Malipunyo, Mt. Banahaw, Mt. Mariveles and Mt. San Cristobal.

The cleanup climbs were held at Mt. Makiling and Mt. Maculot.

AMCI held the 1st Induction Climb of Batch '97 at Mt. Apo via Magpet - Agco Trail last October 18 to 22, 1997. This is the first AMCI Induction climb to be conducted at the highest mountain in the Philippines.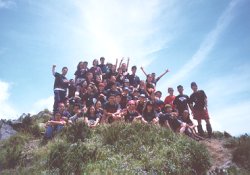 The expedition consisted of fifty (50) members and forty six (46) inductees. Those inducted at Mt. Apo were Cristie Adaza, Edward Aglubat, Edwin Aguilar, Anna Alhambra, Jay Almendrala, Gissel Aviquivil, Rasty Bacaltos, Dick Bitong, Mole Borbe, Abie Capitin, Ditas Capulong, Eric de Guiño, Joven dela Cruz, Romy Doctolero, Jojit Escudero, Yvan Go, Raffy Guillermo, Fern Jampac, Don Kare, Bong Lacerna, Yayo Limon, Elu Lorayes, Jig-jig Macaspac, Al Maerina Jr., Jay Mangundayao, Janet Maraguinot, Angie Marbil, Chie Mendoza, Mike Mendoza, Jo Obico, John-John Principe, Lorraine Reyes, Girlie Rivera, Noel Robes, Evelyn Romero, Oscar Roxas, Lynda Satumba, Omeng Sayo, Rhea Sisante, Marisse Soliman, Pia Solon (of Batch '94), Rocky Sy, John Teodoro, Vhang Tugade, Gerry Villaluz, and Genius Villas.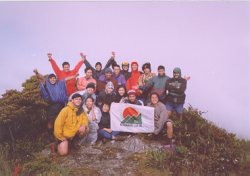 Eighteen (18) members (ten from Batch '97) and eight (8) inductees climbed Mt. Halcon via Mayabig - Lantuyan trail last November 27 to December 1, 1997 for the 2nd Induction Climb of Batch '97.

Inducted at Mt. Halcon were Bea Cabrera, Chard dela Fuente, Maan Escandor (of Batch '96), Lester Feliciano, Jhenda Hernandez, Yas Martelino, Jimmy Sy-Quia, and Dojo Tia.

Overall, fifty-two (52) out of fifty-three (53) inductees from Batch '97 were inducted on Mt. Apo and Mt. Halcon. Jess Vergara remains as an inductee and will have to wait for the next training season.

Congratulations to Batch '97 for successfully completing the BMC training program. Welcome to the Ayala Mountaineers Club, Inc.